Joshua
Snoke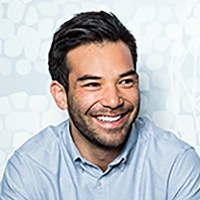 Associate Statistician, RAND Corporation
PhD, Statistics (SoDA Graduate Minor) (2018)
BDSS-IGERT Fellow, Cohort 3 (2014-16)
Websites:
Education:
Department: Statistics

Thesis Advisor: Aleksandra Slavković

B.S. Mathematics & Economics, Wheaton College
Biography:
Archived bio:
Joshua is a fifth year PhD student in the Department of Statistics at Pennsylvania State University. His current research is in Statistical Data Privacy. His primary research focuses specifically creating and evaluating synthetic data sets for public use of sensitive data, with applications to the social sciences, and secure algorithms to estimate models across partitioned databases. His interests further include Differential Privacy, data visualization, causal inference, and predictive modeling. He always enjoys new ideas, and when he spends time away from work he is an avid lover of reading, sports, and playing the banjo.
Joshua spent the summer ('15) working with researchers at the Administrative Data Research Centre - Scotland and the University of Edinburgh, and he spent the summer ('16) working with researchers at the RAND Corporation, Santa Monica office.
Departments:
PhD Candidate