Associate Professor of Rural Sociology and Demography
Director, Computational and Spatial Analysis Core, Population Research Institute
Graduate Faculty, Social Data Analytics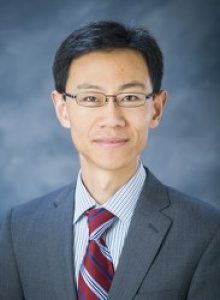 Education
Ph.D. in Environmental Demography, University of Wisconsin-Madison, 2006
M.S. in Environmental Policy, Michigan Technological University, 2002
B.S. in Environmental Science, East China Normal University, 1999
Departments

Demography
Rural Sociology
Social Data Analytics
Professional Bio
Dr. Guangqing Chi is an associate professor of rural sociology and demography and director of the Computational and Spatial Analysis Core of the Population Research Institute and the Social Science Research Institute at the Pennsylvania State University.
Dr. Chi is an environmental and spatial demographer. His teaching interests are in demography, spatial analysis, population and environment, social statistics, and transportation and society. His program of research examines the interactions between the human population and the built and natural environment upon which we all depend. He pursues this objective through two interwoven areas of research: climate change, land use, and community resilience; and critical infrastructure/transportation, population change, and population health within the smart cities framework. The two areas of research build upon his methodological strengths in computational and spatial analysis and spatial demography.
Dr. Chi's research has been supported through grants from national and state agencies, including the National Science Foundation and the National Aeronautics and Space Administration. He has published over 30 articles in internationally prestigious journals. His research on gasoline prices and traffic safety has been highlighted more than 2,000 times by various news media outlets, such as National Public Radio, Money, and Huffington Post.
Dr. Chi is currently working on several funded research projects: 1) the population-infrastructure nexus in response to disasters, 2) the impacts of climate change, international migration, and remittance on left-behind children in high-elevation communities of Central Asia, 3) predicting Twitter user demographics, 4) integrating contextual data, behavioral data, social media data, and individual medical records into a multiscale georeferenced longitudinal database, and 5) developing network-based measures of the food environment and food accessibility and linking them to health disparities related to diet and obesity.