C-SoDA Award Accelerator Program Winning Proposals​
2018-19 Accelerator Program seed grants were awarded to:
Elisa Giannone (Assistant Professor, Economics). "How Social Platforms can Reduce Inequality with a Unique Large Dataset"
Steven Morgan (Ph.D. Candidate, Political Science). "Rights Framing and Religious Conservatives"
Kevin Munger (Assistant Professor, Political Science). "Mapping Politics on YouTube: The Next Big Social Network."
So Young Park (Ph.D. Candidate, Recreation, Parks, & Tourism Management) & Bing Pan (Associate Professor, RPTM) "Toward Effective Intervention for Orphanage Tourism on Twitter."
Anna Squicciarini (Associate Professor, Information Science & Technology), Christopher Griffin (Applied Research Laboratory), & Diane Felmlee (Professor, Sociology). "Analysis of Cyberbullying Dynamics in Media-Rich Social Networking Sites."
Centers, Labs, and Projects of C-SoDA Faculty and Students
Friendly Cities Lab
IGaP Lab: Interdependence in Government and Policy
QuantDev: The Quantitative Development Group
GeoVISTA Center
Population Research Institute
Intelligent Information Systems Laboratory
McCourtney Institute for Democracy Mood of the National Poll
Geoinformatics and Earth Observation Laboratory
Applied Cognitive Science Lab
Militarized Interstate Disputes (MID) Project
LISA: Laboratory for Intelligent Systems and Analytics
Design Analysis Technology Advancement (DATA) Lab
Media Effects Research Lab
Center for Big Data and Discovery Informatics
Machine Learning and Programming Languages Lab
PSU NLP LAB: The Natural Language Processing Lab at Penn State
Computational Social Dynamics Lab
Crowd-AI Lab
Human Language Technologies Lab
MAP Lab: Measurement and Applied Psychology Lab
The Methodology Center
Criminal Justice Research Center
Databrary
ChoroPhronesis
PIKE: Penn State Information, Knowledge, and Web
LIONS Center: Center for Cyber-Security, Information Privacy, and Trust
Center for Life Course & Longitudinal Studies
C-SoDA & BDSS faculty and students conduct research about a wide variety of data arising from human interaction and what and how we can learn from it, including
text data / natural language processing
social networks
spatial and geographic data, intensive longitudinal data
image data, video data, computer vision
deep learning / neural nets, machine learning, Bayesian statistics
algorithms, algorithmic bias, privacy
measurement, research design, causal inference
crowdsourcing, citizen science
visualization and visual analytics
all in the context of understanding important social phenomena.
Student Research under BDSS-IGERT
Since 2012, BDSS-IGERT PhD student trainees and affiliates ahve co-authored over 250 papers and related scientific products (data, software, etc.) that collectively have garnered roughly 3000 citations. For details on this research, please see the BDSS-IGERT Google Scholar Page or follow the thematic links. (Please see individual faculty pages for details on social data analytics research in the broader PSU community.)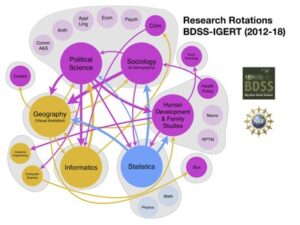 Much of this research was catalyzed by the required 'research rotations' which were a part of the two year experience for each of the trainees.  Interested faculty could host one or more of the IGERT trainees in their lab/research group for 1-2 semesters to work on research questions that have big data and social science aspects (recent examples here).  These were largely arranged through the 'matchmaking' event held each fall semester. The first was held on September, 2014, and the last was held in September, 2017. 
Externship Project Examples
Read about the time when a team of BDSS students and faculty entered a Kaggle machine learning contest sponsored by U.S. Census and used a social scientific approach to break the contest: https://github.com/burtmonroe/BDSSKaggleCensus2012
Read about projects undertaken by student teams in IGERT classes like SoDA 501, SoDA 502, and GeoSocial Visual Analytics:
SoDA Student Dissertations
Xi Liu. 2019. Geography (SoDA minor). Quantifying Cities Through User-Generated Geosocial Content with GeoAI.
Xiaoran Sun. 2019. Human Development & Family Studies (SoDA minor).  Family and Youth Career Development: Towards a Better Understanding of the Mechanisms.
Matthew Denny. 2019. Political Science & SoDA. Three Essays on Legislative Text Analysis.
Carolynne Hultquist. 2019. Geography (SoDA minor). Validating Citizen-Science for Decision-Making During Disasters.
Zhanna Terechshenko. 2019. Political Science & SoDA. What They Say and What They Do: Hawkishness, Hostility, and Conflict Escalation.
Jonathan Nelson. 2019. Geography (SoDA minor). Role of Cartography, Design, and Visualization in Making Personal Movement Data More Accessible, Legible, Valuable.
Mitchell Goist. 2019. Political Science (SoDA minor). The Radical Right in Parliament: A New Method and Application for Studying Political Text in Multiple Languages.
Mark Simpson. 2019. Geography (SoDA minor). Scale and Space: Representations in Immersive Virtual Reality.
Fridolin Linder. 2018, Political Science (SoDA minor). Methods for the Study of Public Opinion using Social Media Data with Applications to the German Refugee Crisis. 
Alex Ororbia. 2018, Informatics (SoDA minor). Coordinated Local Learning Algorithms for Continuously Adaptive Neural Systems.
Joshua Snoke. 2018, Statistics (SoDA minor). Statistical Data Privacy Methods for Increasing Research Opportunities.
Ryan McMahon. 2018, Political Science (SoDA minor). Say it With Style: The Use and Importance of Linguistic Style in Political Communications